Senior Research Associate
Deadline: 20-December-2019
About Accountability Initiative
We are a research group which works on strengthening transparency and accountability in governance. We identify and analyse the reasons that work against efficient public services delivery in India. We provide evidence to policymakers, development practitioners, academics, the media and the public for positive transformational change in malfunctioning government systems.
Our vision is to enable Responsive Governance. We believe this can be achieved if institutions are designed in a transparent and accountable manner and are responsive to citizen demands, and there is an informed and mobilised citizenry which can draw upon these platforms. Our mission is to increase both through research and dialogue.
We are a part of the Centre for Policy Research, one of India's leading public policy think tanks. We currently have operations and staff in 5+ Indian states.
Role Summary
The selected candidate will facilitate AI's works in three areas.
a) Building Evidence: The candidate is expected to design and lead rigorous cutting-edge research on understanding state capabilities and accountability systems in public service delivery by tracking the planning, budgeting and decision making structures of key social sectors. The position entails working with and managing both the research team at the Delhi office and the field teams working in different states where projects may be operational. The work will also require coordinating with clients as well as external partners such as various government officials, multilateral agencies etc.
b) Deepening Public Debate: We believe that accountability in governance can be created when key stakeholders are empowered with an understanding of the internal functioning of the state. We leverage our research for evidence-based public dialogue on governance and accountability. The candidate will thus be expected to work with the Communications team to identify innovative means of promoting dissemination and dialogue.
c) Catalysing Reforms: Underlying AI's work is a strong commitment to the idea that enhanced citizen engagement in governance processes is a primary driver of change. This requires identification of learnings and thinking deeply of how practitioners can scale their practices that demonstrate effectiveness. The selected candidate will be expected to contribute towards taking research findings beyond published papers to actual practice and scale, including by participation in our learning courses.
The role reports to the Director at AI.
Specific Tasks and Responsibilities
Manage a portfolio of research projects & build strategy
S/he is expected to manage research projects in line with AI's vision.
In collaboration with the Senior Researcher, develop appropriate research design in response to the central research problem including both quantitative and qualitative aspects as necessary.
Analyse and simplify primary and secondary data collected from public institutions.
Plan, implement and monitor project progression with attention to detail on project requirements and outputs.
Work and manage closely the assigned research sub-group, project team and support functions to ensure smooth functioning adhering to policies, procedures and timelines.
Utilise AI's resources judiciously in terms of human resources, physical and economic resources keeping intact the standard and quality of outputs.
Partnerships and Stakeholder Engagement
Stimulate relationships with current and prospective clients by means of active communication with key stakeholders, donors and research partners.
Represent AI at various conferences, seminars and discussion/working groups to augment AI's value proposition and research base.
Maintain close association with key public institutions and personnel on a regular basis at least in the main project states to ensure seamless project progression.
Team Management
Lead and manage a high-quality team and effectively break down work-streams and ensure high outcome-orientation.
Mentor a group of research associate(s) as assigned to supervise and motivate towards any research support.
Provide assistance to research associates to develop their research and project management skills periodically.
Liaise and communicate with field teams for project support at field level; Ensure simplistic articulation of project needs to field staff for best outcomes.
Participate in volunteer/enumerator training programmes in the beginning of any data collection stage.
Learning and Development, Communication and Dissemination
Contribute towards AI's internal and external Learning and Development initiatives to build capacity to understand theoretical and practical aspects/ understanding the Indian social sector's implementation dynamics.
Drafting reports/working papers and policy briefs and other communication materials.
Ensure that AI's research output meets the rigour and relevance for publication in leading journals; represent AI (and its knowledge) in these forums.
Presentations in policy forums summarising research and findings.
The position will require a large amount of quantitative research.
The table below gives a brief snapshot of expected skills: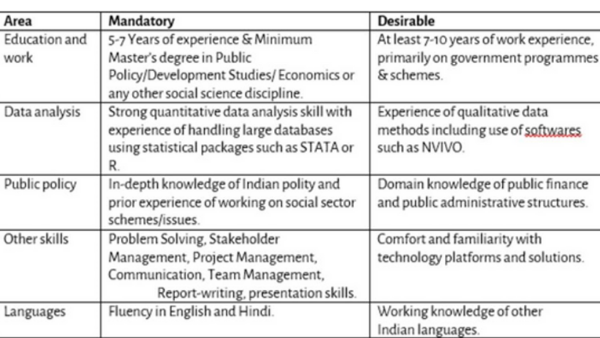 Personal Characteristics and Desired Qualities
Ability to effectively communicate research and evaluation findings to a range of different stakeholders.
Operating style suited to working in a small organisation setting, where teamwork and entrepreneurial skills are highly valued.
Excellent leadership skills, including prior evidence of managing multiple projects at a time.
Interested candidates should apply to info@accountabilityindia.org with the subject: "Application for the post of Senior Research Associate- New Delhi".
Application should include
A cover letter describing your background, work experience, interest and suitability for the position;
A CV which specifically lists your relevant experience and skills (Also mention your current and expected CTC as footer);
Two writing samples (one short 4-5 pages and one longer – up to 25 pages);
2 references (preferably one professional and one academic);
LinkedIn profile.
Note: Each document should be included as a separate attachment to the email with your name clearly mentioned in the file name as well as the content of the file.