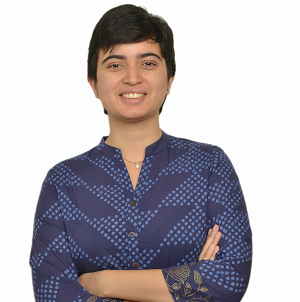 Sanaya Sinha
Senior Research Associate
Sanaya is a Senior Research Associate at the Accountability Initiative (AI).
Sanaya began her career as a qualitative consumer researcher at Quantum Consumer Research (Singapore), using consumer insights to advise clients on brand positioning and marketing strategies. During this time, she also worked on Human Centric Design projects with Quantum's Design Thinking division. With a view to applying her research skills to the development sector, Sanaya left Quantum to pursue an MA in Development Studies, post which she joined Dasra (Mumbai). Sanaya first worked in a project management role with Dasra's sanitation team, building and facilitating collaborative platforms within the Bill and Melinda Gates Foundation's portfolio of Water, Sanitation and Hygiene (WSH) partners. This role included co-facilitating the Technology and Urban Governance Taskforces within the National Faecal Sludge and Septage Management (NFSSM) Alliance. Post this, she transitioned to Dasra's research team, working on a variety of research projects with a focus on adolescent health and education.
Sanaya has a Bachelor's degree in Economics and Sociology from Singapore Management University, and a Master's degree in Development Studies from the Institute of Development Studies, University of Sussex (Brighton). Her work experience spans across South East Asia, India, and China.
Send Email