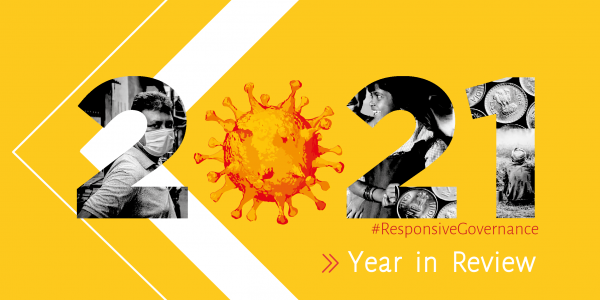 Forward Together in spite of Pandemic Uncertainty
6 January 2022
As the disruption brought on by the COVID-19 pandemic deepened in 2021, we doubled down on our efforts towards Responsive Governance or the creation of a public system that is responsive to citizen's needs. For this, we studied India's post-pandemic welfare structures, brought these insights to decision-takers and the public, and reworked the way we taught the next generation of development leaders so that they remain in touch with ground realities. 
Reaching new milestones
‣ The Centre for Policy Research (CPR) celebrated its 48th Anniversary in 2021. A curated discussion on The Role of Ideas in Shaping 21st-Century India was held on the occasion, and featured CPR scholars across generations. 
‣ A Memorandum of Understanding (MoU) was signed with the Ministry of Rural Development, Government of India as part of which we will study the ministry's existing management information systems and conduct data analysis on local-level data collected by the ministry to bolster data-led development of rural areas. Another MoU was signed with the Government of Andhra Pradesh on strengthening fiscal processes, expenditure optimisation and revenue augmentation. 
‣ Our year opened with the publication of the 13th volume of our flagship publication — the Budget Briefs. These contained the status and progress of 10 major Centrally Sponsored Schemes, and prominently featured the pandemic's impact on financing for social welfare programmes and the Union government's mitigation measures. 
Opinion pieces analysing the Budget announcement were also published by major media houses.
What the budget means for India's social sector | Hindustan Times 

Covid needed special attention to health but Modi govt Budget doesn't give a clear roadmap | The Print 

Rural job scheme sidelined; no push for nutrition, health | Deccan Herald
A pre-budget workshop with state-based vernacular journalists was held to enhance their understanding of the Union budget document. 
‣ Launched in response to pandemic restrictions in 2020, the online version of our Understanding State Capabilities learning programme (previously available only offline) saw 100 participants enrolled for the course in less than a year. The course is crafted for early-career development practitioners and students. 
‣ The PULSE (Platform to Understand, Learn, Share and Exchange) for Development marked its 14th Coffee Chat in November. Coffee Chats are semi-formal discussions on a range of welfare-oriented challenges, and bring together government officials and civil society organisations to learn from each other and exchange best practices. 
‣ Our flagship research methodology PAISA (Planning, Allocations and Expenditures, Institutions Studies in Accountability) was selected by WaterAid as a best practice case study on accountability for sanitation. 
Documenting pandemic experiences 
‣ Our report on the Experiences of Frontline Workers in Rajasthan and Himachal Pradesh during the COVID-19 Pandemic examined the evolving role and experiences of Frontline Workers (FLWs) during and after the countrywide lockdown in 2020. The findings provide insight into how FLWs shouldered additional responsibilities, how they have adapted to the disruption of routine health and nutrition-related services, and how they have initiated creative responses to help the public system adapt to the 'new normal'. 
Additionally, findings were shared in panel discussions. Avani Kapur was a panelist in a discussion on Community Health Workers hosted by Oxford Policy Management and Women in Global Health India.

Udit Ranjan was a panelist in a

discussion

organised by the Azim Premji University. 

Ritwik Shukla spoke in a 'live' instagram

session

by Jhatkaa

, as part of which touched upon the emerging challenges of ASHA workers in this period.
‣ As the second wave swept through India, we continued to track the unfolding pandemic response in districts of Bihar, Rajasthan, Himachal Pradesh, Madhya Pradesh, and Maharashtra. Interviews of frontline officials and workers were published as part of the Inside Districts series — which was launched in 2020 to document the pandemic response by the lower bureaucracy, their challenges and triumphs.
‣ A journal article co-authored by Avani Kapur and published in the Economic and Political Weekly, drew from grassroots accounts of actors embedded within local communities. The article is a methodical inquiry into the potential "synergy" between these local government officials and societal actors. It included the experiences of government frontline workers from the Inside Districts series, and separate interviews of citizen journalists conducted by Video Volunteers. 
‣ A workshop was conducted for the Australian High Commission on experiences and learnings from working remotely and managing teams during the pandemic. Thirty senior staff members of civil society organisations in India and Australia participated in the session. 
Engaging the government and policymakers 
‣ Officials at the Meghalaya Administrative Training Institute (MATI) were trained by Mridusmita Bordoloi and Neeha Jacob on Management and Analysis of Administrative Data; and Avani Kapur and Rajika Seth in a session entitled on Accounting for Accountability or Accountability for Accounting. Mridusmita Bordoloi led another session on Fund-flows to North-Eastern States through Central Schemes as part of a policy workshop organised by PRS Legislative Research for MLAs from the North-Eastern states.
‣ In addition, we are working closely with the Government of Meghalaya. Besides being involved with the finance and planning departments in the budgeting exercise for financial years 2021-22 and 2022-23, we have supported the government on gender, child, and youth budgeting. 
Shining a light on the changing nature of governmental accountability in India
‣ There are four lessons from the pandemic, wrote Avani Kapur in an opinion piece published by the Southern Voice. Among them has been the need to reconsider how citizens interact with, contribute, and demand accountability from the state. Another piece by Avani Kapur and Avantika Shrivastava published by the Transparency and Accountability Initiative, discussed accountability, and how the Accountability Initiative is driving evidence-based research on state capabilities and public service delivery.
‣ The Accountability Keywords project was launched by the Accountability Research Centre in August. Among 30 posts that cover the usage of accountability-relevant keywords in local contexts the worldover, was Rajika Seth's piece entitled A Novel Attempt at Breaking the Language Barrier. The project features authors from countries across Asia, Africa, and Latin America. 
Augmenting knowledge on financing for nutrition 
‣ Funding is key to addressing malnutrition and undernutrition. To improve understanding of the nutrition finance landscape in India, a research paper by Avani Kapur and Ritwik Shukla was published in the British Medical Journal. The paper sought to determine whether the current Public Finance Management System (PFMS) allows for capturing required nutrition data. This was done by mapping the availability and comparability of data for a set of key nutrition-specific interventions across the budget cycle: from budget formulation, to execution, and finally, evaluation. The study found significant gaps in data availability, including the absence of granular financial data by level of governance, geography, and intervention components. 
‣ Avani Kapur was a panelist in a webinar that dived into the practical challenges on child nutrition during the COVID-19 pandemic and beyond. The panel was held by Child Rights & You and the Centre for Budget & Governance Accountability. 
‣ Meanwhile, the development of an online course on nutrition financing for district and block-level government officials gathered pace. In the upcoming course, participants will be able to understand, assess, and review the processes of nutrition planning, costing, budgeting, and expenditure. Further, participants will be able to identify and recognise the larger ecosystem within which nutrition financing in India functions, such as government processes, efforts on convergence, and social accountability.
Refocusing on offline activities
‣ As the pandemic situation eased for a short period before India's second wave, our staff returned to conduct fieldwork. They wanted to understand convergence across government departments tasked with malnutrition reduction or simply put — how have government departments been working together? The study (findings of which are contained in a soon-to-be published report) captures the barriers and facilitators for convergence at the village and block levels in three districts of three states. 
‣ Customised, hybrid sessions forming part of the Understanding State Capabilities course were held throughout the year. Among the topics were engaging effectively with government stakeholders, and social accountability.
A version of the course was organised for the International Innovation Corps (IIC) Fellows, University of Chicago. A separate session was held for Mantra4Change. Our team was also invited to teach the course at the Indian School of Development Management for the fifth consecutive year. 

In another avatar (virtually) two 10 hour capsules on

Decentralisation

and

Understanding the Indian Bureaucracy

were taught to students of FLAME University. 
"Before going through the Understanding State Capabilities course, I did not know that understanding the state could be so expansive! The distinctive feature of the course is that the modules are designed in a manner that contextualise the Indian state with reference to/within different theories. 

This course has certainly empowered me in understanding the state, decentralisation, budget and accountability in a holistic sense."

— Advaita Parashar, SOS Children Villages
Amplifying local leadership
‣ The HumaariSarkaar.in website soared to new heights during June and July, as it touched 8,000 users. The website is primarily an online learning resource on governance in Hindi, is predominantly about the Indian grassroots, and is for grassroots leaders and students. 
‣ A learning course meant for Panchayati Raj Institutions (PRIs) was piloted with Ajeevika Bureau, Rajasthan, and Centre for Catalysing Change, Bihar. The course aims to strengthen the knowledge of PRI members on local governance systems. 
A big win for us on training students outside of India's major cities 
‣ Our learning course meant for students and community-based leaders – Hum Aur Humaari Sarkaar – got a boost when we partnered with three state-based universities. These were: the Udaipur School of Social Work; Department of Sociology, University of Rajasthan; and Magadh University in Bihar. 
"From this course, I learned that our work as citizens does not end by just choosing the government, and it is also very important to participate, cooperate, and be publicly conscious at every level."

— Parjeet Yadav, Student 
Supporting key national and international milestones 
‣ Findings from a research study to understand the regulation and monitoring of non-state actors in school education will feed into the Global Education Monitoring Report (due to be released in 2022). The study's focus is on regulatory frameworks for non-state actors (such as NGOs, private-public partnerships, private schools) on school provisioning and supplementary service providers, and the need for making the public system stronger for monitoring education delivery in line with national education goals. 
‣ Every year, the first week of September is observed in India as National Nutrition Week, and the month is celebrated as Rashtriya POSHAN Maah. To mark the occasion, we released six nutrition-related knowledge products focusing on women and children. These can be accessed from here. 
Key Highlights of 2021