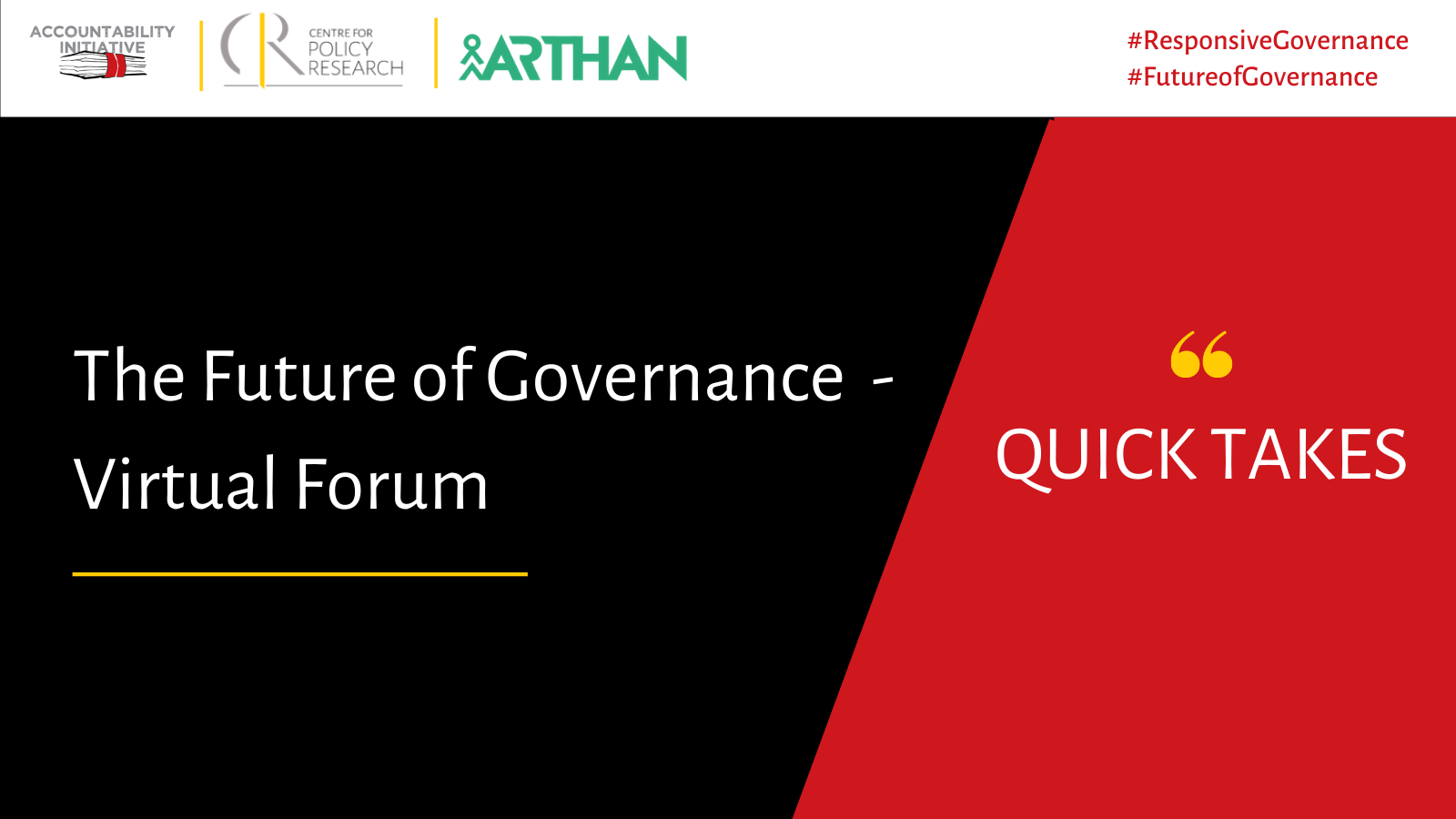 A Lookback on 'The Future of Governance' Virtual Forum
7 October 2020
The Future of Governance virtual forum is an attempt to spark dialogue on the challenges and prospects of civil society-government collaboration in India. Curated by us and co-hosted with Arthan, the forum spans two days (7-8th October) and features over 27 speakers. Leaders in public policy, non-profit, philanthropy and politics, will deliberate in 5 panel discussions. Three masterclasses will cover the conceptual underpinnings of citizen-government engagement.
A glimpse of the sessions held:
Fireside Chat
In the Fireside Chat, Yamini Aiyar, Centre for Policy Research and Anurag Behar, Azim Premji Foundation explored how the core pillars of society view the state. They also reflected on their individual experiences of working with the state. Mr. Behar laid out some tensions between the state and the civil society while Ms. Aiyar discussed how frontline workers, who interact with the state every day, perceive their relationship with the state. 
"People matter, and we need to identify individuals who are driven to be change agents in the system," Mr. Behar said. 
Launch of Understanding State Capabilities, a course on understanding the nuts and bolts of government functioning
Following the discussion, Mr. Behar and Ms. Aiyar launched the online version of the 'Understanding State Capabilities' programme. The course is designed by us, and draws learnings from our research studies. Sign up for the course from here. 
As Avani Kapur from Accountability Initiative and Ms. Aiyar noted, it is expected that this course will impart a nuanced understanding of the functioning of the state.
Panel 1: The importance of understanding the nuts and bolts of government functioning
The first panel of the day featured Luis Miranda from the Indian School of Public Policy (ISPP), Nikhil Dey from Mazdoor Kisan Shakti Sangathan and Poornima Dore from Tata Trusts. The panel was moderated by Ms. Kapur, and touched upon the basics of governance and government functioning, the role of champions and changemakers, participatory democracy, digital governance, among other aspects. Key insights included the criticality of decision-making at the government level, the need for open dialogues, and information asymmetries in the digital age.
Panel 2: Building  knowledge, skills and attitudes for effective government engagement
The second panel saw Chakshu Roy from PRS Legislative Research, Anuradha Joshi from the Institute of Development Studies, and Srikanth Viswanathan from Janaagraha Centre for Citizenship and Democracy, as speakers. The panel was moderated by Rajika Seth, Accountability Initiative. 
The panel explored the importance of efficient and strategic citizen engagement, and the specific capacities that can drive this. Issues like civic education in schools, aspirations and pressures of government stakeholders, building coalitions among civic groups, and getting governments to make fiscal commitments, were also discussed. 
Panel 3: Deep Dive: How can grassroots field workers engage with local administration effectively?
Dotted by anecdotes from the field, this panel was an insightful discussion among Dr. Rukmini Banerji from Pratham, Ashif Shaikh from Jan Sahas, Biraj Patnaik from the National Foundation of India and Mirai Chatterjee from SEWA. Acknowledging the crucial work done by different last mile frontline workers, including those associated with the government such as Anganwadi Workers, the panel dived into experiences during the COVID-19 pandemic. They also deliberated on empowering grassroots field workers with the right tools and information to effectively engage with government authorities. 
Masterclass 1: Union, State, District, Block and Villages: Disentangling decentralised governance in India
The first masterclass of the forum was led by Ms. Seth and Sanjana Malhotra from the Accountability Initiative. The session began with Ms. Seth discussing the three Fs of political decentralisation – functions, funds and functionaries. 
The masterclass aimed to help participants disentangle the practical implications of decentralisation in India. Through leveraging the ground experience of Accountability Initiative's work, the masterclass decoded what decentralisation entails and how it unfolds on the ground to drive social accountability.
Masterclass 2: Only wicked minds solve wicked problems: Systems thinking for the 21st century
In this masterclass, Rajesh Kasturirangan, Socratus shared Socratus' work on using cognitive models to re-evaluate our understanding of governance, update it for the 21st century, and move towards what governance 'ought to be' rather than what it 'is'. 
Complex governance challenges have long been known as 'wicked problems'. Rajesh shared ways in which cognitive models and frames can be used to assemble a 'wicked mind' to tackle such challenges.
Keynote Address
On Day 2, the forum opened with keynotes from Meenakshi Gopinath, Centre for Policy Research and Atishi, Member of Legislative Assembly, Delhi. They talked about how it is imperative to learn about democracy and politics to understand citizen-state engagement. Atishi shared valuable insights on electoral politics, the motivation of political parties and the role of civil society organisations in driving change.
Panel 4: Grantmaking as an enabler of citizen-state engagement
In this panel, we were joined by Sandhya Venkateswaran from the Bill and Melinda Gates Foundation, Bharath Visweswariah from the Omidyar Network, and Zulfiquar Haider from Azim Premji Philanthropic Initiatives, in an exciting discussion on grantmaking enabling civil society organisations and citizen engagement. The session was moderated by Ms. Kapur.
The discussion touched upon facets such as the importance of community platforms in magnifying citizens' voice, emerging developments in CSR funding, building capacity through grants, sustainable collaboration and technology.
Masterclass 3: The truth lies where the money hides: Identifying fiscal roadblocks in India's welfare programmes
In the third masterclass, researchers Meghna Paul and Ritwik Shukla from Accountability Initiative took participants through the intricacies of public finance and fund flows.
By way of case studies on MGNREGS and the National Health Mission, they brought roadblocks in public finance processes into focus, and how these impact the quality of public services.
Panel 5: A Delicate Thread: Government perception of citizen participation
In this panel, we were joined by Gaurav Gogoi, Member of Parliament, Uma Mahadevan, Government of Karnataka, Rai Mahimapat Ray, Government of Jharkhand, and Anjali Yadav, Government of Jharkhand. The session was moderated by our Advisor and former IAS officer TR Raghunandan.
The panel offered insights on how the government perceives citizen engagement and explored the need to listen to diverse perspectives, use of social media to disseminate information, partnership between district administration and local academia. The session also explored deliberative democracy processes like Gram Sabhas.

The two-day long Future of Governance virtual forum ended with summarising remarks by Ms. Kapur who also introduced the PULSE platform for development. This was followed by a stand-up act by Mr. Raghunandan, which took the attendees deeper into the world of bureaucrats and bureaucratic functioning.
We look forward to more such dialogues with you on Responsive Governance. In case of any feedback/suggestion on this one, do write to us at socialmedia@accountabilityindia.org.