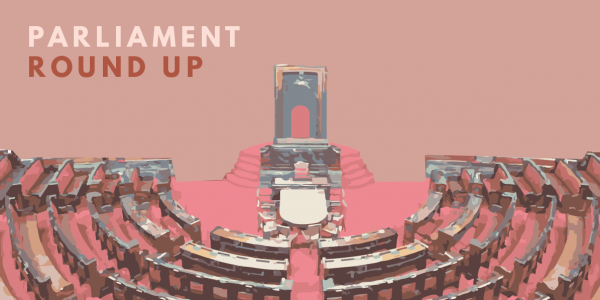 At a Glance: Budget Session 2023 (Part-2)
10 April 2023
The Budget Session of Parliament commenced on 31st January and is scheduled to conclude on 6th April. The session adjourned on 14th February for a month-long recess till 13th March. Below are curated highlights from the Question Hour and Zero Hour during the second leg of the session (between 13th March 2023 and 29th March 2023).
Highlights from Question Hour and Zero Hour
Livelihood 
● The eShram portal was launched by the Ministry of Labour and Employment on 26 August 2021, as a comprehensive national database of unorganised and migrant workers. It aims to facilitate delivery of benefits of social security schemes to unorganised sector workers through integration with other scheme related portals. 
As on 14 March 2023, approximately 28.66 crore unorganised workers have registered on eShram portal. The revised module for gig workers and platform workers went live in September 2022. Currently over 38,000 platform workers have registered/updated their profile on the portal.
In order to facilitate job opportunities for unorganised sector workers, the portal is being integrated with the National Career Service (NCS) portal. Currently, more than 13 lakh eShram registered workers have registered on the NCS portal
Rural Development
● Out of the 19.43 crore rural households in the country, around 11.49 crore (59 per cent) households have tap water supply, as on 20 March 2023. Of these, around 8.26 crore rural households have been provided with tap water connections in the last three and half years under Jal Jeevan Mission (JJM). Read more about the progress of JJM with our Budget Brief.
● The National Agriculture Market (e-NAM) scheme provides for online trading of agriculture and horticulture commodities across the country. As on 7 March 2023, 1,260 mandis from 22 States and 3 Union Territories (UTs) have been integrated with the e-NAM platform.
● Under the Pradhan Mantri Kisan Samman Nidhi (PM-KISAN) scheme, an income support scheme launched in 2019, more than ₹2.24 lakh crore has been released to more than 11 crore farmers across the country.
Health
● The status of out-of-pocket expenditure (OOPE) in healthcare has improved in the past few years, from ₹2,394 per capita in 2014-15 to ₹2,155 per capita in 2018-19. The proportion of OOPE in Total Health Expenditure (THE) has also been declining over the past few years. Simultaneously, the proportion of Government Health Expenditure (GHE) in THE has been increasing as depicted below.
However, as a recent World Health Organization (WHO) report highlights, OOPE in India is still high compared to global figures and continues to impoverish 55 million Indians annually.
● Under Mission Saksham Anganwadi and Poshan 2.0, there are currently 13.9 lakh Anganwadi Centres (AWCs) across the country with 9.94 crore benefit availing citizens, namely, pregnant women, lactating mothers and children under the age of 6 years.
● Under the Ayushman Bharat – Pradhan Mantri Jan Arogya Yojana (AB-PMJAY), a total of 23.3 crore eligible citizens have been verified, as on 20 March 2023. Over 4.49 crore hospital admissions worth ₹54,241 crore have been authorised through a network of 26,434 empanelled health care providers including 11,500 private hospitals under the scheme.
● As on 28 February 2023, a total of 1,57,698 Ayushman Bharat – Health and Wellness Centres (AB-HWCs) have been operationalised across the country to deliver Comprehensive Primary Health Care (CPHC), including preventive, promotive, curative, palliative, and rehabilitative services. Between 2019-20 to 2021-22, a total footfall of 85.63 crore persons has been recorded in these AB-HWCs.
● Launched on 10 October 2022, the National Tele Mental Health Programme aims to improve access to quality mental health counselling and care services across the country. As on 9 March 2023, 25 States and UTs have set up 36 Tele MANAS Cells and have started mental health services. A total of 63,806 calls have been handled on the helpline numbers since the scheme's inception.
Others
● As per the Unified District Information System for Education Plus (UDISE+) (2021-22) database, out of the 10.2 lakh government schools in India, around 2.47 lakh i.e. 24 per cent government schools have internet facilities. Out of 82.5 thousand government aided schools in the country, around 43.8 thousand i.e. 53 per cent government aided schools have internet facilities.
To know more about trends in allocations, public expenditures, outputs and outcomes of key social sector programmes, check out our Budget Briefs 2023. To mark the publication of the 15th volume of Budget Briefs, we have analysed  the evolution of India's welfare system since 2008. Visit here for a basic overview of the schemes.
Glossary
AB PM-JAY provides health cover of ₹5 lakh per family for secondary and tertiary care hospitalisation. The eligibility criteria for eligible households is based on SECC 2011.
Jal Jeevan Mission is Government of India's (GoI's) rural drinking water programme to provide functional tap connections to every household for drinking, cooking, and other domestic needs on a sustainable basis by 2024.
In FY 2021-22, GoI restructured the Integrated Child Development Services (ICDS), POSHAN (Prime Minister's Overarching Scheme for Holistic Nourishment) Abhiyaan, and the Scheme for Adolescent Girls (SAG) into Mission Saksham Anganwadi and Poshan 2.0.
National Health Mission (NHM) is GoI's largest public health programme, which aims to achieve universal access to quality healthcare.
As per the NFSA, up to 75% of rural population and 50% of urban population are entitled to receive subsidised foodgrains under Targeted Public Distribution System (TDPS). The AAY households, which constitute the poorest of the poor, are entitled to receive 35 kg of foodgrains per family per month while PHH are entitled to 5 kg per of foodgrains per person per month.
Pradhan Mantri Kisan Samman Nidhi (PM-KISAN) is GoI's income support scheme, launched in 2019,  under which all landholding farmers receive up to ₹6,000 per year to supplement their financial needs.
Rural Health Statistics (RHS) 2020-21 report presents a snapshot of Public Health infrastructure & human resources across the country up to 31 March 2021. Read more

here

.