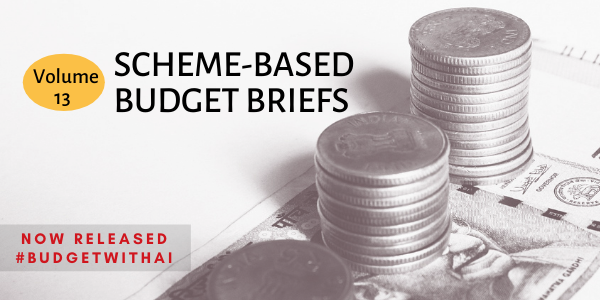 Budget Briefs 2021-22: Trends of Government Schemes
1 February 2021
2020 saw unprecedented disruptions in India's public system. As you will see from the new volume of our flagship 'Budget Briefs' series, welfare schemes have played an important role in this period. They prominently featured in the Government of India's (GoI's) policy response – from frontloading payments under the PM-KISAN farmer income support programme to additional provisions for the Mid-Day Meal scheme.
Yet, low revenues meant that many ministries had to significantly cut their budgets for the year, resulting in low releases and utilisations.
The situation was particularly hard on fronts such as nutrition and education. With the temporary closure of Anganwadi Centres (AWCs) during the lockdown came the very real threat of an increase in malnutrition. Typically, an AWC delivers a range of services meant for the well-being of children, adolescent girls and women. Crucially, while funding increased for the scheme, both fund releases and spending were low with the pandemic's onslaught. The situation has been similar in education.
From the section below, you will find links to download the briefs, and highlight findings from our analyses:
Education
Samagra Shiksha: With schools closed and classroom-based teaching halted, the potential of employing digital technologies has become clearer. But infrastructure for Information and Communications Technology (ICT) was low in most states prior to the pandemic and has been prioritised in plans by only some states. Download
Mid-Day Meal: Additional fund allocations have been made. For instance, ₹1,600 crore to provide MDM or Food Security Allowance (FSA) during the summer vacation. The pace of fund release, however, has been slow. Download
Nutrition
Health
Rural Livelihood
Water