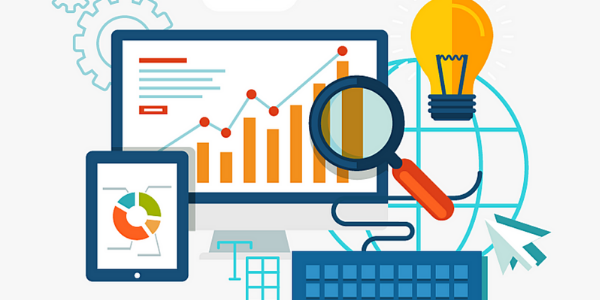 Tracking Core Expenditure of the Tumakuru City Corporation in Karnataka
13 July 2021
This blog is part of a series unpacking the 'PAISA for Municipalities' research which analysed urban local body finances in Tumakuru Smart City of Karnataka. The first part offers why the study was conducted, the backdrop to the study, and the researchers involved. It can be found here.  
Considering the fragmentation of expenditure by various entities within Tumakuru city, and that data availability was anything but ideal, we turned our attention to the core expenditure of the city corporation of Tumakuru. In our efforts, we were helped by a young and energetic officer of the state government, who was posted in Tumakuru and ensured that we had ready access to the Municipal Corporation's accounts.
With limited exposure to analysing the city corporation budgets of Bengaluru city, one approached the task in Tumakuru with more than a degree of trepidation. Bangalore City Corporation accounts were shambolic, in spite of claims that they had deployed a state of the art accounting system. Budget estimates exceeded the actuals by a wide margin, but this was often known to the public only much later in the financial year, or in some cases, even after the financial year concerned had closed.
Expenditures thus often did not have any relationship with budget estimates, presented with much fanfare at the start of the year.
Tumakuru, in contrast, was a pleasant surprise. We discovered that all the data were indeed available. The extant budgeting system of Tumakuru Municipal Corporation, we discovered, was comprehensive and captured all income and expenditure items along with the appropriate accounting codes.
While the corporation budget was not further broken down to the level of each of its 35 wards, we felt that the organisational capacity in the accounting wing was good enough to enable such exercises in the future.
This, we felt, was a significant opportunity for promoting further transparency, under the Smart City project. With little effort, data could be made available on a ward-wise basis for easy access by citizens, so that they can understand the flow of funds and expenditure from all expenditure entities, as and when they desire to do so, in real-time.
When it came to the actual expenditure incurred as against allocations, sadly, the same story of high expectations and low returns was seen to play out again. While the budgeted receipts were ₹394.18 crore, the actuals were 65.48 per cent lesser, at ₹136.05 crore. The shortfall for capital receipts was as high as 76.83 per cent compared to revenue receipts (45.49 per cent) and extraordinary receipts (67.81 per cent).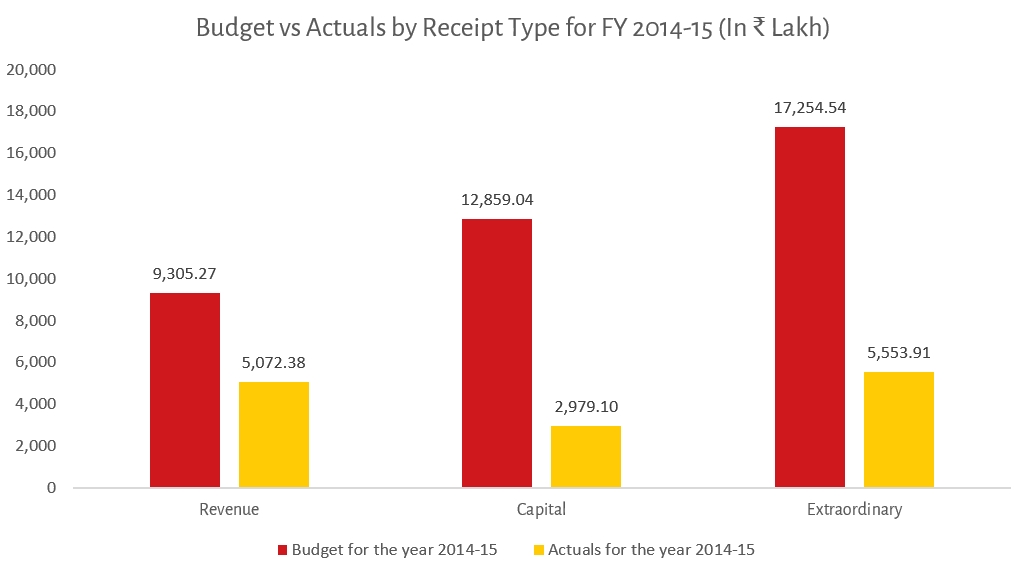 While the corporation expected to receive ₹187.25 crore as grants (which included SFC and Union Finance Commission grants) for FY 2014-15, actuals were just one-third of that amount, at ₹63.35 crore.
The corporation received even less in 2015-16; just ₹179.9 crore, but it had pegged its expectations low too, at only ₹294.25 crore. Some distortion was also caused by the fact that the Municipality had expected a special grant under a scheme in 2014-15, but it was actually released only in 2015-16.
As with receipts, expenditures are categorised as revenue, capital, and extraordinary expenditure. Extraordinary expenditure includes those funds expended by way of implementation of a scheme, plan or a project by the Municipal Corporation.
The city corporation was only able to incur an expenditure of ₹175.73 crore in 2014-15, as against a targeted level of ₹471 crore. The differences were driven primarily by differences in capital expenditure (-69.65 per cent) and extraordinary expenditure at -73.27 per cent.  In contrast, the difference was -38.46 per cent for revenue expenditure. See figure below.
The expenditure budget for Tumakuru Municipal Corporation was reduced by nearly 24 per cent in FY2015-16 to ₹360 crore. Against this target, the actual expenditure was ₹199.22 crore, a shortfall of -44.66 per cent. The difference for revenue expenditure stood at -15.9 per cent, capital expenditure at -53.36 per cent, and extraordinary expenditure at -63.9 per cent.  See figure below.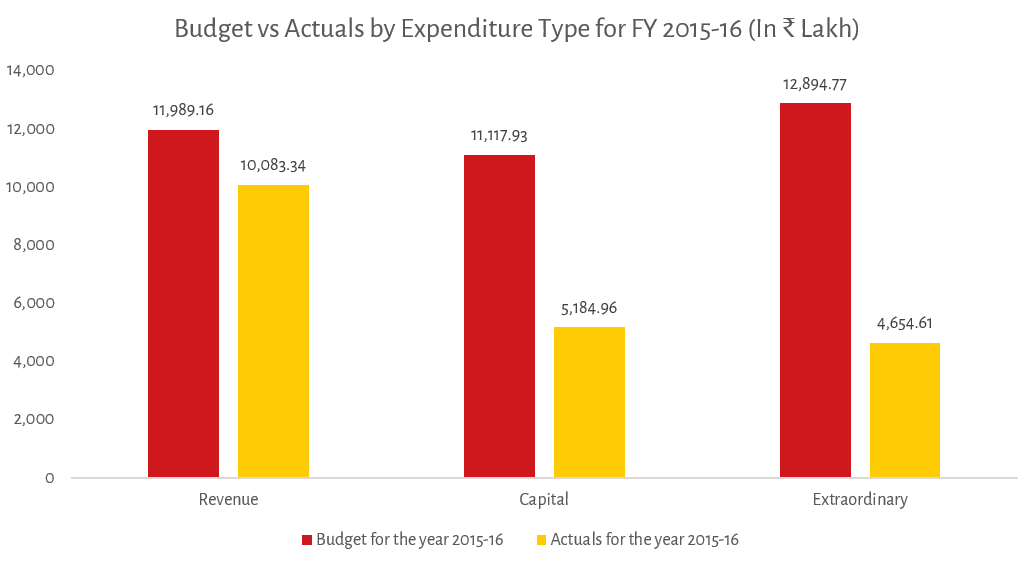 In the next installment, I will look at the expenditure priorities of the city corporation.
T.R. Raghunandan is an Advisor at Accountability Initiative.