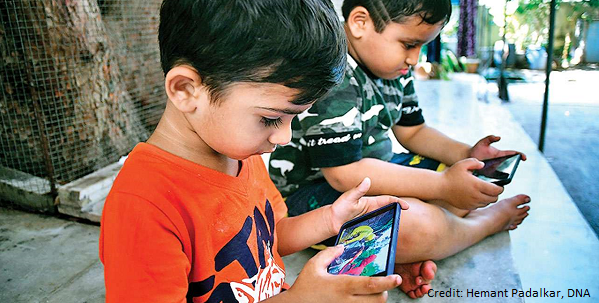 COVID-19 Response: Focus on ICT-based Education Delivery Raises Question of Accessibility
12 June 2020
The four phases of the COVID-19-induced lockdown abruptly closed schools to curb the pandemic. Consequently, given the prospect that children will not return to schools anytime soon, many state governments have attempted innovative ways of providing syllabus-based audio visual content for them through the use of radio, television and mobile phones. While making available a range of ICT-enabled learning resources, there are multiple roadblocks in the accessibility and adaptability of tech-facilitated learning, which require the attention of policymakers. 
What are governments doing?
As on 16th April, at least 6 states had begun broadcasting virtual classes via Doordarshan, and cities in 11 states were utilising radio stations to broadcast virtual classes and educational content for a limited number of hours daily [1]. The Prime Minister held a meeting on 1st May to deliberate over education reforms, where he made specific references to the use of technology ranging from online classes to live-broadcast of classes on television channels for school education [2]. Two weeks later, the Union Finance & Corporate Affairs Minister referred to ICT in education as one of the key areas of focus while announcing the fifth tranche of the ₹ 20 lakh crore Atmanirbhar Bharat stimulus package [3]. Even though a dedicated budget allocation was not made for this purpose, a ₹ 8,100 crore stimulus amount was provided via viability gap funding for a basket of programmes, including an all-encompassing programme 'PM e-VIDYA'. 
'PM e-VIDYA' platform covers a range of digital and on-air education services for school education. This platform is thus multi-mode and includes separate channels for students in grades 1 to 12 with no access to internet ('one class, one channel'), DIKSHA Platform ('one nation, one digital platform') for e-content, and digital textbooks for all grades available through an e-Paathshaala. It also makes extensive use of Community Radio stations. Care has been taken to offer learning to visually and hearing impaired persons, with e-content being developed on a Digitally Accessible Information System (DAISY). A toll-free helpline has been established for their psychosocial support, and a website and interactive chat platform called 'Manodarpan' has also been announced [4].
Despite this, burning concerns remain
The provision of e-content and digital education through PM e-VIDYA programme will likely not hit roadblocks with respect to the availability of material. The DIKSHA Platform has been running since 2017, NCERT's portals like e-Paathshala have an extensive repository of online materials since 2015, and SWAYAM Prabha's 32 education channels have been online since 2017. Similarly, the national online education platform 'SWAYAM' (that facilitates hosting of the courses, taught in classrooms from Class 9 till post-graduation) has been active for a few years. However, it is in the balancing of learning through innovative ICT-based practices as opposed to traditional physical classroom interactions, where inequities arise.
These include the unequal access of ICT infrastructure in and among households across different economic strata; the changed role of teachers in the digital medium; the lack of a formal mechanism to guide students on accessing and choosing between a range of such services. For instance, the proportion of households at the bottom of the income pyramid is considerably high in India, and the average number of members of low-income families is relatively higher. For instance, during 2017-18, the average number of members in bottom 20% households in terms of per-capita household expenditure, was 5.2, compared to 3.2 in the top 20%*. As a result, creating a conducive environment at home in terms of dedicated space to sit without noise from other household activities, for children to engage with studies through digital platforms would be difficult. Many low-income families where both parents work as daily wage labourers, might not be able to provide the kind of supervision as provided by teachers in schools.
Another important factor in ensuring quality is the two-way dialogue between students and teachers. Current ICT-based solutions proposed by the government largely make available a pre-recorded repository of online sessions and one-way dissemination of education through radio, podcasts, and television channels. With the absence of daily peer-group interactions, offering interactive sessions is a challenge. The Union Finance Minister did refer to live interactive sessions on Skype, which is even more challenging since poorer households will have issues with affordability of computers, internet connections. Additionally, for teachers to use digital platforms, it is essential that the government trains them on pedagogy for ICT-based teaching, given that online teaching is radically novel. Unfortunately, there have been no guidelines or directives by the Union government or states regarding this. 
Whether it is teacher training, the installation of ICT infrastructure, sensitising parents on their new role, budget allocations as well as a proper roadmap to implement these are vital. As things stand now, a shift to e-education without laying down the necessary support will lead to perpetuate further inequalities in learning outcomes across different socioeconomic groups.
Mridusmita is a Senior Researcher at Accountability Initiative and Tenzin is a Research Associate.  
*  Source: National Sample Survey 75th round, 'Key Indicators of Household Social Consumption on Education in India', July 2017 to June 2018, Ministry of Statistics and Programme Implementation.
[1] https://pib.gov.in/PressReleseDetail.aspx?PRID=1615204 
[2] https://pib.gov.in/PressReleseDetail.aspx?PRID=1620208
[3]https://www.thehindu.com/business/Economy/coronavirus-lockdown-union-finance-minister-nirmala-sitharaman-announces-fifth-and-final-tranche-of-economic-stimulus-package/article31607066.ece
[4] https://pib.gov.in/PressReleseDetail.aspx?PRID=1624868

To cite this blog, we suggest the following: Bordoloi, M. and Yangki, T. (2020) COVID-19 Response: Focus on ICT-based Education Delivery Raises Question of Accessibility. Accountability Initiative, Centre for Policy Research. Available at: http://accountabilityindia.in/blog/covid-19-response-focus-on-ict-based-education-delivery-raises-question-of-accessibility/.