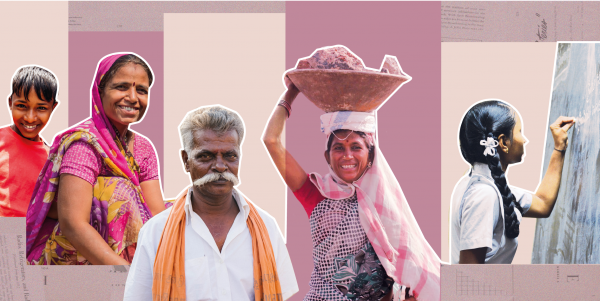 At a Glance: India's Major Welfare Programmes
25 January 2023
Through this blog, we give you a basic overview of India's major welfare programmes.
Atal Mission for Rejuvenation and Urban Transformation (AMRUT) Mission
AMRUT, implemented by the Ministry of Housing and Urban Affairs, was launched in June 2015 in 500 select cities and towns across the country. 

The Mission focuses on development of basic infrastructure for water supply, sewerage and septage management, storm water drainage, green spaces and parks, and non-motorized urban transport.

AMRUT Mission was subsumed under AMRUT 2.0, which was launched in October 2021. AMRUT 2.0 will be implemented for a period of 5 years, till Financial Year (FY) 2025-26. 

AMRUT 2.0 is designed to provide universal coverage of water supply through functional taps to all households in all the statutory towns in the country, coverage of sewage and septage management in 500 cities covered in the first phase of the AMRUT scheme, and promotion of circular economy of water through development of City Water Balance Plan.
Ayushman Bharat
Launched in September 2018 under the aegis of the Ministry of Health and Family Welfare (MoHFW).

Consists of two initiatives: 

Pradhan Mantri Jan Arogya Yojana (PMJAY); and 

Establishment of 1.5 lakh Health and Wellness Centres (HWCs).

PMJAY is a health insurance scheme aimed at providing health cover of ₹5 lakhs per family per year for inpatient secondary and tertiary care to poor and vulnerable families that form the bottom 40 per cent of the Indian population and reducing out-of-pocket health expenditures.

The Health and Wellness Centre initiative aims to transform 1.5 lakh Sub Health Centres (SHCs) and Primary Health Centres (PHCs) – the first point of contact in primary healthcare – to Health and Wellness Centres by 2022.

The Ayushman Bharat Digital Mission (earlier referred to as National Digital Health Mission) is a Government of India's (GoI) agency that aims to create an integrated healthcare system that will link practitioners and patients digitally by giving them access to real-time health records, thereby promoting prompt and structured healthcare across the country.
Food Subsidy and the National Food Security Act
Implemented by the Ministry of Consumer Affairs, Food and Public Distribution (MoCAF&PD), it is GoI's flagship programme to ensure food security through the supply and distribution of food grains and other essential commodities.

In 2013, the enactment of the National Food Security Act (NFSA) made the provision of adequate quantities of quality food at affordable prices and ensured nutritional security a right.

The Act legally mandates the coverage of two-thirds of India's population. The Act relies on the existing Targeted Public Distribution System (TPDS) mechanism to deliver these entitlements.

To help reduce hunger and nutrition challenges arising due to lack of access during the COVID-19 pandemic, the Centre announced the Pradhan Mantri Garib Kalyan Anna Yojana (PMGKAY) in March 2020, providing additional foodgrains to eligible citizens free of cost.

In December 2022, it was announced that PMGKAY will be subsumed under NFSA, and from 1 January 2023, GoI will distribute foodgrains free of cost to all eligible citizens under NFSA for a period of 12 months.

The 'One Nation, One Ration Card' (ONORC) scheme was launched in August 2019 to allow for nationwide portability of NFSA benefits. The scheme provides flexibility to migrant eligible citizens to lift foodgrains from any Fair Price Shop (FPS) of their choice.
Jal Jeevan Mission (JJM)
GoI's flagship rural drinking water supply scheme.

It subsumes the previous National Rural Drinking Water Programme (NRDWP).

Aims to provide functional tap connections to every rural household for drinking, cooking, and other domestic needs on a sustainable basis by 2024.

Implemented by the Department of Drinking Water and Sanitation (DDWS), under the Ministry of Jal Shakti (MJS).
Mahatma Gandhi National Rural Employment Guarantee Scheme (MGNREGS)
GoI's flagship scheme to provide at least 100 days of guaranteed wage employment in a financial year to every rural household that demands work.

Launched in 2006 following the Mahatma Gandhi National Rural Employment Guarantee Act, 2005.

Largest scheme of the Ministry of Rural Development (MoRD).
Mission Vatsalya 
The erstwhile Child Protection Services (CPS) Scheme, implemented by the Ministry of Women and Child Development (MWCD) since 2009-10 for the welfare and rehabilitation of children, was subsumed under Mission Vatsalya in FY 2021-22.

Mission Vatsalya is a roadmap to achieve development and child protection priorities aligned with the Sustainable Development Goals. 

The Juvenile Justice (Care and Protection of Children) Act, 2015 and the Protection of Children from Sexual Offences Act, 2012 form the basic framework for implementation of the Mission.

Mission Vatsalya promotes family based non-institutional care of children in difficult circumstances based on the principle that institutionalization of children should be a last resort measure.
Mission Shakti
GoI launched 'Mission Shakti' – an integrated women empowerment programme as an umbrella scheme for the safety, security, and empowerment of women – for implementation with effect from April 2022. 

It is implemented by MWCD. 

Mission Shakti has two sub-schemes: 

'Sambal' for the safety and security of women. The sub-scheme consists of the following erstwhile schemes: One Stop Centre (OSC), Women Helpline (WHL), Beti Bachao Beti Padhao (BBBP).

'Samarthya' sub-scheme for empowerment of women, which consists of the erstwhile schemes of Ujjwala, Swadhar Greh, and Working Women Hostel, and the existing schemes of National Creche Scheme and Pradhan Mantri Matru Vandana Yojana (PMMVY).
National Health Mission (NHM)
Launched in May 2013, the National Health Mission (NHM) consists of two sub-missions:

National Rural Health Mission (NRHM), launched in 2005 to provide accessible, affordable, and quality healthcare in rural India; and
National Urban Health Mission (NUHM), a sub-mission launched in 2013 for urban health.

Aims at achieving universal access to health care by strengthening health systems, institutions, and capabilities.

Implemented by the Ministry of Health and Family Welfare (MoHFW).

On 5 April 2020, to strengthen health systems and provide an immediate response to the COVID-19 pandemic, GoI announced the 'India COVID-19 Emergency Response and Health System Preparedness Package' (ERHSPP). 

NHM is the nodal body for implementation of the scheme. The period of the package is from 1 January 2020 to 31 March 2024, with expenditure prior to 3 April 2020 claimed retroactively.
Pradhan Mantri Awaas Yojana – Gramin (PMAY – G)
GovI's flagship 'Housing for All' scheme.

Launched in November 2016 after restructuring the Indira Awaas Yojana (IAY), a rural housing scheme started in 1996.

Aims to provide monetary assistance for the construction of a

pucca

house with basic amenities for all rural homeless families and those living in dilapidated and

kutcha

houses by 2022. The scheme has ben extended till March 2024.

Implemented by the Ministry of Rural Development (MoRD).
Pradhan Mantri Jan Dhan Yojana (PMJDY)
Launched in 2014 with an objective of ensuring access to various financial services like availability of basic savings bank account, access to need based credit, remittances facility, insurance, and pension, to the excluded sections i.e. weaker sections and low income groups.

Under the scheme, a basic savings bank deposit account can be opened in any bank branch or Business Correspondent (Bank Mitra) outlet by persons not having any other account. 

Other benefits include no minimum balance requirement in PMJDY account, RuPay Debit card, accident insurance cover of 1 lakh, and eligibility for Direct Benefit Transfer (DBT) under other welfare schemes. 

The scheme is implemented by the Department of Financial Service, Ministry of Finance.
Pradhan Mantri Kisan Samman Nidhi (PM-KISAN)
Income support scheme in which small and marginal farmers get up to ₹6,000 per year to supplement their financial needs.

Came into force with retrospective effect from 1 December 2018.

Implemented by the Ministry of Agriculture and Farmer Welfare (MoAFW) as a Central Sector Scheme (CSS).
Pradhan Mantri Poshan Shakti Nirman (PM-POSHAN)
GoI's flagship school-based feeding programme aimed at improving the nutritional status of students and promoting the universalisation of elementary education. The programme also f

ocusses on enhancing enrolment, retention, and attendance of children.

Launched as a Centrally Sponsored Scheme (CSS) in 1995 as Mid-Day Meal Scheme (MDM).

Run by the Ministry of Education (MoE), erstwhile Ministry of Human Resource Development (MHRD). The name of the scheme was changed to PM-POSHAN (Pradhan Mantri Poshan Shakti Nirman) Scheme, in September 2021.

The scheme has been extended to students studying in pre-primary or Balvatikas running in government and government aided primary schools since 2022.
Saksham Anganwadi and Poshan 2.0
In Financial Year 2021-22, GoI restructured Integrated Child Development Scheme (ICDS) and POSHAN Abhiyaan into Saksham Anganwadi and Poshan 2.0.

This consists of the following sub-schemes: The erstwhile ICDS, POSHAN Abhiyaan, and Scheme for Adolescent Girls.

The stated objective of this restructuring was to converge the nutrition related initiatives of MWCD and strengthen convergence with other concerned ministries like Health and Family Welfare, AYUSH, Rural Development, Panchayati Raj, and Environment and Forests.

It is the largest scheme of MWCD.

Aims to reduce the incidence of mortality, morbidity, malnutrition, and school dropout, as well as enhance the capability of mothers to look after the health and nutritional needs of their child. It also aims to lay the foundation for proper psychological, physical, and social development of the child.

The Integrated Child Development Scheme (ICDS) was launched in 1975 in 33 districts and universalised in 2005.

POSHAN Abhiyaan, earlier known as the National Nutrition Mission, was launched in March 2018, with an aim to improve nutritional outcomes in a phased manner.
Samagra Shiksha- An Integrated Scheme for School Education
GoI's flagship school education programme extending from pre-school to senior secondary classes in accordance with the Sustainable Development Goal for education.

Created by integrating the Sarva Shiksha Abhiyan (SSA), Rashtriya Madhyamik Shiksha Abhiyan (RMSA), and Teacher Education (TE).

The integrated scheme was launched in April 2018.

Implemented by MoE.
To find detailed insights on the structure, fund flows and trends in implementation of these welfare programmes, download their respective budget briefs from here.