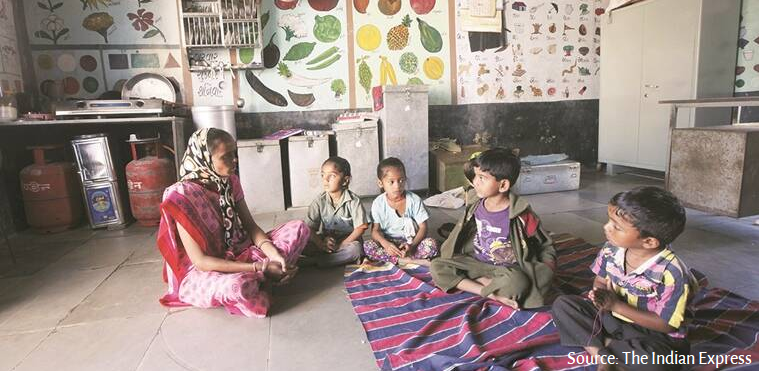 'People Think that Anganwadis are Withholding their Benefits'
14 July 2022
The 'Inside Districts' series launched in April 2020 is a one-of-its-kind attempt to capture the experiences of district and Block-level officials, Panchayat functionaries, beneficiaries, and frontline workers, on their challenges and best practices.
This interview was conducted with a Lady Supervisor in Bihar in Hindi on 7 May 2022, and has been translated.
Q. Are parents sending their children to the Anganwadi Centres (AWCs)? What kind of challenges are you facing in this regard?
Lady Supervisor (LS): Yes, but before the pandemic, there was a routine that the parents would themselves get the children ready and send them to the centre. Now, we have to go to a child's house two to three times to call them to the centre. Things are a bit difficult because of the discontinuity over the last two years.
Q. Do you see a change in the malnutrition status in children? What all is being given to children as nutritious food?
LS: The malnutrition situation is the same as it was earlier, because we were able to provide services to only half of the children.
Even when we recommend sending severely malnourished children to the Nutritional Rehabilitation Centre (NRC), their parents do not agree. Most of these parents have five to seven children, they don't want to leave them to go stay at NRC.
We are serving dal (lentils), rice and soybeans as nutritious food.
Q. According to you, during the COVID-19 pandemic, were there things which the government should have provided but did not? On the other hand, what necessary things have been provided?
LS: We should have received more safety masks, sanitisers, and PPE kits from the government. But all we received from the department was a single mask, what good would that have done? I had to ensure all safety measures with my own money before going to work.
We only receive honorarium from the government, and now we do not even expect anything else from the government.
Q. What are your primary responsibilities at the moment? What challenges are you facing in their regard?
LS: Ensuring that community-based events like Godbharai and Annaprashan take place every month, among other things.
As for challenges — there are 12 AWCs in my sector, but they are incomplete. As per an order of the District Magistrate, we have to run classes for the children within the centres.
Also, for a population of over a thousand people, we receive Take Home Ration (THR) for only 40 to 45 children, as per the norms. But when Village Health, Sanitation and Nutrition Days (VHSNDs) happen, the people who do not get THR also do not come for vaccination! We have to explain to them that THR and vaccinations are two separate things, and that vaccination is very important for both them and their children.
Q. Is Early Childhood Care and Education (ECCE) taking place at the AWC? What instructions have you received regarding ECCE?
LS: Yes, we have received materials for ECCE and activities for the same are being carried out. But the AWWs do not use the material themselves. It is only when I go to the centre and ask them to, that they take out the material and give it to the children.
Apart from this, the centre has been tagged with a school.
Q. During the last six months, what kind of problems have Anganwadi Workers (AWWs) brought to your notice?
LS: Their biggest challenge is filling the Poshan tracker [which tracks key nutrition parameters among children, girls, and pregnant and lactating women]. Many of them have not studied much, and usually the update on the tracker is done by one of their family members, like their son or daughter. Another challenge they face is that the beneficiaries do not want to come for vaccinations.
Q. Have you received any complaints regarding service delivery from the beneficiaries in the last two years? Conversely, have you received such complaints from AWWs?
LS: Yes, when we used to receive a supply of hot food for 20 instead of 40 children or money for only half of the lactating mothers who are beneficiaries, many people used to think that the AWWs were withholding the benefits. We had to explain that the benefits were not available for everyone at the moment.
Even now, when children between ages 3-6 years are served hot-cooked food, they ask for the dry Take Home Ration (THR) along with it. According to them, since they used to get it earlier, they would still get it. There is only so much AWWs can do at their end, for example, they can feed two or three extra kids from the supply they get for say the 40 children under the AWC. But they can't provide more than they receive.
Even when AWWs bring these complaints to us, we explain to them the same thing! Sometimes they understand, other times they don't. In such situations I contact the Child Development Project Officer (CDPO).