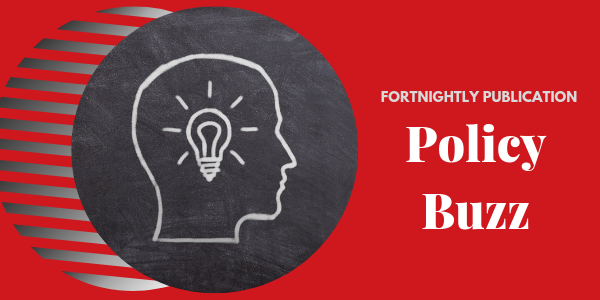 Policy Buzz: Budget Special
19 July 2019
Keep up-to-date with all that is happening in welfare policy with this curated selection of news, published every fortnight. Our first edition is a Budget 2019 special, and focuses on the budget and social sector spending. 
Policy News
General
The Union government has shortlisted 167 big bang ideas that are to be implemented in the first 100 days of its tenure. These ideas will be selected after several rounds of presentations by all ministries. Additionally, they have also been asked to put out performance monitoring dashboards on all major schemes to enable public access to the progress made on these schemes.
Education
In a bid to improve teaching-learning outcomes and give a boost to the teaching profession, the Government of India is introducing a four year course – the Integrated Teacher Education Programme (ITEP) for pre-service training. The course will offer graduation in Primary and Secondary education.
The deadline for public feedback on the draft New Education Policy (NEP) has been extended by the government. The new deadline is 31 July 2019. NEP will be the lodestar for school education in the country. We have put out two blogs for you on why 'non-teaching' work in government schools and  grade-specific learning  warrant more attention in the new policy.
Health
The draft 

National Digital Health Blueprint

(NDHB) has now been released for public comments.

NDHB will focus on digital technologies to widen the provision of healthcare services. It has "specific details of the building blocks required to fulfill the vision of National Health Policy 2017". 
Water
Finance Minister Nirmala Sitharaman has made the provision of piped water supply to every rural household a top priority by promising Har Ghar Jal by 2024 under the National Rural Drinking Water Mission in her Budget speech. Meanwhile, the Meghalaya Cabinet passed a draft water policy, making the state first among its peers to formulate such a policy. The need for coherent policy action on water is apparent given acute water shortages in parts of the country, including Chennai and Bengaluru.
Opinion 
Budget 2019 has been widely discussed, critiqued and appreciated. But what does the Budget hold for the social sector? A detailed analysis by the Accountability Initiative team on social sector schemes run by the Government of India can be found here, and features trends in allocations, expenditures and outcomes. This time, we have put together an interactive resource to provide you with a comprehensive overview of 10 major welfare schemes and their progress. Explore the new website for easy-to-understand facts from our latest Budget Briefs.
Calling Budget 2019 a 'lost opportunity', Yamini Aiyar (Founder, Accountability Initiative) writes, "with its resounding mandate, the government could have embarked on structural reforms, but instead has chosen an incrementalist approach, making clear- Modi 2.0 is going to steer the familiar course."
Avani Kapur (Director, Accountability Initiative) opines that, on the one hand, allocations for welfare schemes in education, health and supplementary nutrition have increased from the 2018-19 Revised Estimates, there haven't been many changes from the Interim Budget in February. In another piece, she and Ritwik Shukla (Research Associate, Accountability Initiative) discuss how the health budget seems to have prioritised Health System Strengthening under the National Health Mission, which will assist on public health facilities meeting Indian Public Health Standards (IPHS) and providing quality care. There is, however, a need to intensify public expenditure on health.