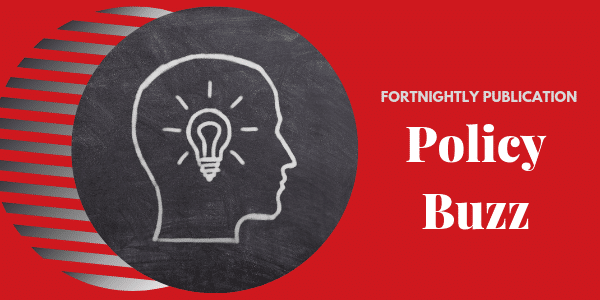 Policy Buzz: Edition 10
23 November 2019
Keep up-to-date with all that is happening in welfare policy with this curated selection of news, published every fortnight. 
Policy News 
General
The

Winter Session

of Parliament commenced on 18th November with the Rajya Sabha marking its 250th session.

27 bills are expected to be taken up for introduction and consideration this time. 
Health and Nutrition: 
NITI Aayog has

released

a report on health systems strengthening. The

report is a result of a year-long exercise, and identifies areas that health systems should focus on in the future. It has also cited Accountability India's Budget Briefs on the National Health Mission, which you can access from here.
The Ministry of Women and Child Development has launched the Bharatiya Poshan Krishi Kosh, which will be a repository of diverse crops across 128 agro-climatic zones. The aim is to augment the achievement of better nutritional outcomes and reduce malnutrition through this repository.
Water: 
Jodhpur and Dungarpur in Rajasthan will be pilot districts

for the

Water Security and Climate Adaptation in Rural India (WASCA

) project. Under this project, Geographic Information System (GIS) lab-cum-data centres will be set up which will collect data from various departments for capacity building and improving rural water resource management. 
Centrally Sponsored Schemes: 
The Odisha government expects to

receive more than Rs. 6000 crore

under various Centrally Sponsored Schemes like

Pradhan Mantri Awas Yojana (PMAY), Mahatma Gandhi National Rural Employment Guarantee Act (MGNREGA).

The release position on 7th November stood at Rs. 7,544 crore. 
State Budget: 
Odisha will

receive technical assistance

from the International Monetary Fund, under which state departments will be given an indicative finance ceiling to be able to prioritise their deliverables. The South Asia Training and Technical Assistance Centre (SATTAC), part of the IMF will be helping the state move towards a multi-year budgeting system.
Opinion 
Samagra Shiksha was launched in 2018 to fund elementary, secondary education and teacher training for quality learning and universal school education within the next decade. But the scheme is facing basic implementation issues. Read this piece by Mridusmita Bordoloi, a Senior Researcher at AI.