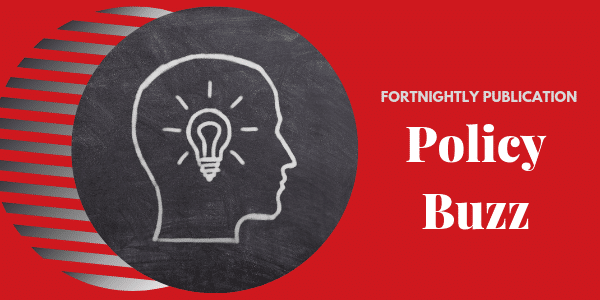 Policy Buzz: Edition 7
12 October 2019
Keep up-to-date with all that is happening in welfare policy with this curated selection of news, published every fortnight. 
Policy News 
Governance: 
The Andhra Pradesh government has introduced a

Village and Wards Secretariat programme

with the aim of making public services more transparent and accessible on ground. More than 1.20 lakh employees have been recruited, and they will assist

people in availing

over 500

government services.

Village and ward secretariats will start becoming operational from the first week of December.  
Budget: 
The Finance Ministry will start conducting

pre-Budget and Revised Estimates (RE)

meetings from 14th October, which will go on till the first week of November. Budget Estimates (BE) for 2020-21 will be provisionally finalised after discussions amongst Secretary, Expenditure and concerned Secretaries and Financial Advisers. 
The Reserve Bank of India has released its

annual study of state-level budgets. The analysis unpacks "Debt: States' Medium-Term Fiscal Challenge," and can be found

here

.
Water: 
Gram Panchayats and local bodies will now be eligible to

decide on water usage charges

for the supply of potable piped water under the Jal Jeevan Mission. Emphasising how water can be best managed locally, the Jal Shakti Ministry has given "full flexibility" to the said bodies. 
Health: 
The

findings

of the Comprehensive National Nutrition Survey (2016-18), the largest micronutrient survey conducted by the government, have been released. The survey was conducted by the Ministry of Health and Family Welfare, UNICEF and Population Council.  It has collected data on the nutritional status of children between the ages of 0 and 19 in rural and urban areas across 30 states.

The report is available

here

. 
Opinion 
With over 10 crore toilets being built in the last five years and an unprecedented rise in access to individual household toilets, the Swachh Bharat Mission has taken India's sanitation policy a step further. However, the programme's mission mode design could have affected programme implementation. Avani Kapur, Director at Accountability Initiative, and Sanjana Malhotra, Research Associate, unpack why.