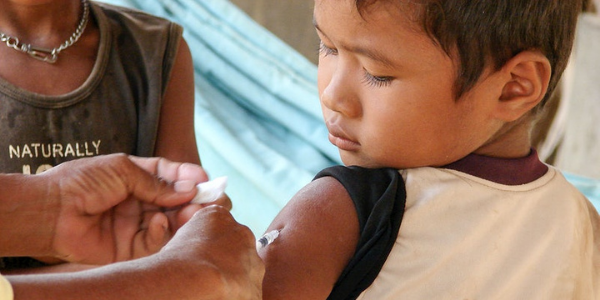 'Vaccinations Could Not Happen for Months'
10 November 2020
The 'Inside Districts' series launched in April is a one-of-its-kind attempt to capture the experiences of district and Block-level officials, panchayat functionaries and frontline workers, on their challenges and best practices.
This interview was conducted with an Anganwadi Worker (AWW) in Madhubani, Bihar in Hindi on 22 October 2020, and has been translated.
Anganwadi Workers are honorary workers who assist on the government's major nutrition and early education programme – the Integrated Child Development Services – in local communities. The ICDS is for children under the age of 6 years, pregnant, and lactating women. 
Poshan Maah is organised every year in September under the Poshan Abhiyaan, to increase awareness and knowledge about nutrition, disease prevention, and sanitation-related measures. 
Both are major programmes of the Government of India. 
Q: The Poshan Maah was organised recently amid the pandemic, what do you think is the current status of nutrition?
AWW: If we talk about the status of nutrition among children, the situation has considerably worsened. Children are not coming to the Anganwadi centre like before, and hence we are not able to take care of them. We go from door-to-door to create awareness among parents.
Vaccinations could not happen for 3-4 months, which has also created problems for mothers and children.
Q: What were the challenges that you faced during Poshan Maah held in September and how did you tackle them?
AWW: During Poshan Maah, we had to create awareness about cleanliness among people. It was extremely challenging. People were not understanding or cooperating at all. There was dissatisfaction because they claimed that money in lieu of supplementary nutrition meals and ration were received via direct benefit money transfer for one month only.
We are working according to the instructions given to us, but when rural people don't get the benefits they are entitled to, it becomes difficult to explain things to them. They don't even talk to us properly.
Q: Have you been receiving gloves, masks and sanitisers regularly?
AWW: We only received masks in the initial days for surveys and scheme-related assignments. However, we have not received anything lately.