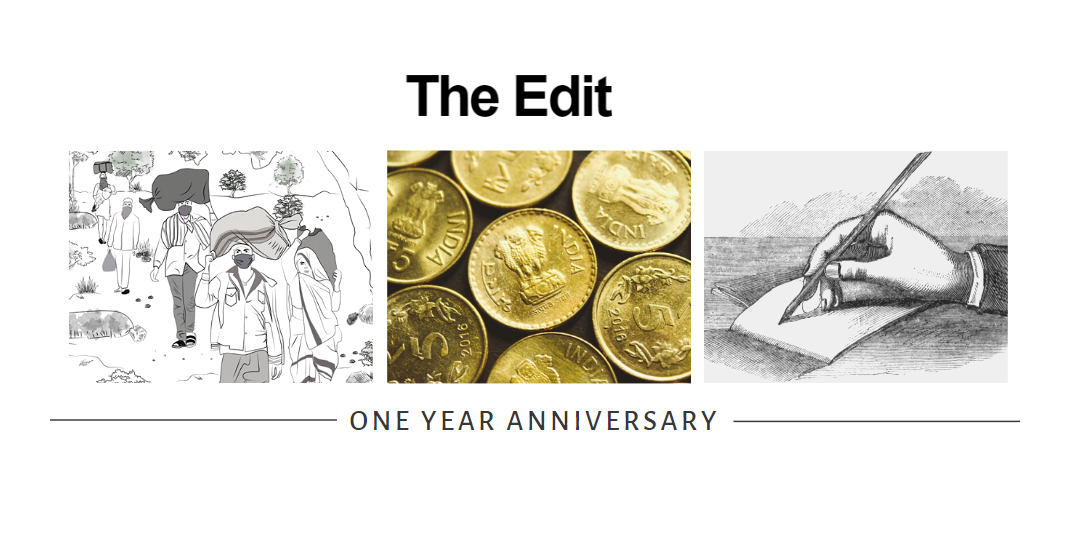 Shaping Ideas on Policy through The Edit
30 July 2020
On 1st August 2019, we launched our monthly newsletter – The Edit – to bring you rich insights on India's public welfare system. Each month since then, we've handpicked our best analyses and opinion pieces to craft an edition.
Our community of development practitioners, scholars and public policy experts on Responsive Governance is growing, and we have each one of you to thank for!
Below, you will find the editions of the past months for ready reference. We hope that you will enjoy them as much as you did the first time or find them useful if you have not yet come across The Edit.
This edition focussed on a range of topics, such as: the learning and development needs of frontline Civil Society Organisation staff, India's Pradhan Mantri Jan Arogya Yojana insurance programme, and water policy.  
In this edition, we released our Working Paper on the implementation of the school consolidation policy in Rajasthan.
The third edition marked the 5th anniversary of the Swachh Bharat Mission, its progress and challenges, and whether the goals of the programme have been met. 
This month cast a spotlight on youth engagement in governance. This exploration was anchored by commentaries on age-weighted voting and climate activism.  
Among our flagship offerings for dialogue is the Responsive Governance discussion series. The first was held with Dr Gabrielle Kruks-Wisner, who is an Assistant Professor of Politics and Global Studies at the University of Virginia.
She drew on extensive fieldwork in rural India, and how claim-making is possible in settings (poor and remote) and among people (classes and castes).
2019 was a particularly significant year for us as we expanded work across thematic areas and geographies, which is why a lookback was chosen as the month's Cover Story.
This edition launched our exclusive website on Budget 2020, and flagship analyses of social sector schemes (we published 13 Budget Briefs this year).
Despite significant investments in welfare programmes, their implementation has proven to be India's Achilles heel. The Cover Story of this edition was a conversation featuring Rathin Roy (former Director, National Institute of Public Finance and Policy); Jeffrey Hammer (Senior Visiting Fellow, Centre for Policy Research); T.R. Raghunandan (Adviser, Accountability Initiative & Former Indian Administrative Service Officer), and Avani Kapur (Fellow & Director, Accountability Initiative, Centre for Policy Research).
We launched the 'Inside Districts' series to document the experiences of frontline government administrators and workers during the Coronavirus pandemic. Through human interest stories, the series offers an inside look on what is taking place in rural India.
The pandemic has not just led to massive disruptions in economic activities, it has further stressed the finances of Indian states. Backed by evidence from our study, the month's focus story delved into states' finances. 
Diverse insights were offered in this edition. Notable among these were the Union-State dynamic in pandemic times, and the paradox of decentralisation as it exists currently. 
In its latest edition, The Edit explored costing for the scale-up of India's key nutrition interventions, and provided a resource on fostering collaboration for social impact.  
In order to mark The Edit's first anniversary, and continue to spark dialogues with you, we invite you to take part in an exclusive virtual event in August. You can also send us a mail at: socialmedia@accountabilityindia.org to become a subscriber.